Single LED Couch with Light | Colorfuldeco
Brand: Colorfuldeco
Manufacturer: Colorfuldeco
Since everyone is limited to the four corners of our homes, try to upgrade the usual pieces you have to improve the environment. A Single LED Couch with Light from Colorfuldeco can help you maintain an ergonomic style. With its medium length, you can be sure that you have ample space to sit on.
Single LED Couch with Light
An elegant couch that can make your space stand out is the Single LED Couch with Light from Colorfuldeco led furniture. It has stylish lines that exude a classic vibe, and it is a humble piece that boasts versatility making it suitable either indoors or out.
To help you find the best couch for you, here are some tips for you to follow. Maybe with these, you'll get to see the perfect sofa you can live with for decades. 
Right Proportion of led couches for sale
Size up your room to avoid chaos. Never let a tiny couch in a spacious area or large items crowd a conservative space. With this RGB Color-Changing LED lights sofa, you can comfortably seat one. But if things get cramped up, perhaps two people are still fine. 
High Quality 
The Make matters. The Single LED couches with Light have a polyethylene body that makes them sturdy and firm. It is smooth since the plastic was molded carefully with all its intricacies. Even the pointed corners of this couch are not pointy enough to hurt someone. Its shape is crafted beautifully without sacrificing the safety of its user. 
Neutral Shade 
When all the other design of led furniture is in place, your couch must complement. In its pearl-white case, you can be sure that it will since it can be a focal point for colorful spaces. If you are into neutral shades, it can bring a sense of balance. Light up couch is light and pleasing to the eyes, and it can exude a relaxing vibe.
Functionality
When it comes to purpose, you won't be wrong with the Single glowing couch with Light. It functions not only as a Couch but as additional lighting too. Transform your living space into a relaxing space with a stylish look. 
With Lumbar Pillows And Cushions of Single LED Couch and LED Double Back Sofa Combination Furniture Set for Relaxation Areas in Hotels Resorts and Bars
The Single LED Couch and LED Double Back Sofa Set is a great way to create a stylish and comfortable outdoor lounge area at a hotel resort. The built-in LED lighting provides a soft and inviting glow, while the plush cushions ensure comfort. The set is also weather-resistant, making it a durable option for outdoor use.
The LED single couch and double couch are available in a variety of colors and styles to match the décor of any hotel resort. And can be configured in a variety of ways to create a comfortable, style, and luxury seating arrangement. The set is perfect for creating a relaxing and inviting social gatherings and party events lounge area and is sure to impress guests.
Our products are used in a wide range of activities. Such as entertainment: amusement parks, dance parties, weddings, corporate events, engineering, wholesale or retail. Garden, patio, family bar, living room, villa, swimming pool, private courtyard, hotel, restaurant, cafe, coffee shop, teahouse, square, etc.
Also, if you pair with other outdoor products. Such as LED light-up end table and glow egg table night lights rechargeable, the courtyard or garden will become more beautiful and charming!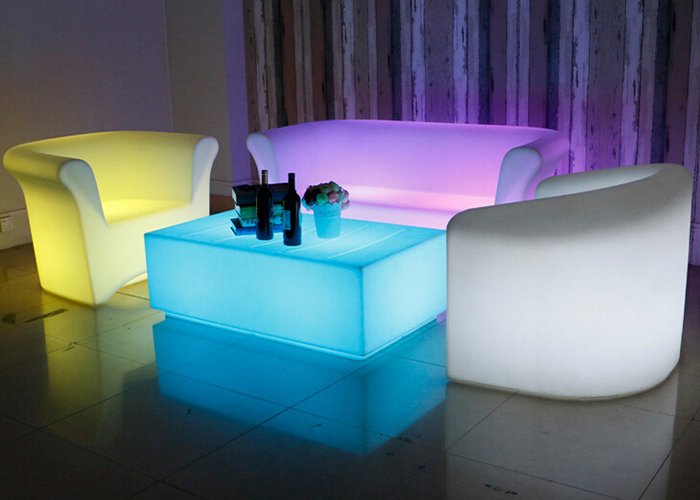 Length: 108 cm.
Width: 77 cm.
Height: 76 cm.