Glow In The Dark Ball 20 cm, 7.9 Inches, Colorfuldeco
Brand: Colorfuldeco
Manufacturer: Colorfuldeco
Colorfuldeco glow in the dark ball 20 cm, decorate, and lightweight up a replacement world of life. This light ball led is that the most versatile light, indoor, outdoor, entertainment, the simplest stage, and prop ideas. It can hang from a tree or from the ceiling. You'll also peg them to the bottom. Creating a soothing and relaxing environment for both indoors and outdoors.
Glow in the dark ball 20 cm
These glow in the dark ball 20 cm are trustworthy. It is a multi-purpose lamp. Indoor and outdoor scenario. Of course, you'll get a lot of compliments. And glow in the dark ball 20 cm will create a fascinating atmosphere for you.
The glow in the dark balls will look amazing. As table mood lamp, a sensory toy for kids, nursery night light, living room & pool decor. Besides, if you're considering using them for commercial purposes. That's great. Because, they've graced many weddings, restaurants, and company shows.
Infinite possibilities, hanging & ground insertion
LED hanging ball lights create an elegant and romantic outdoor environment. Ideal for indoors and outdoors. Perfect for your yard, pool, garden, patio, home exterior – whatever you need.
You can think of anywhere. Can use it to decorate indoor and outdoor activities. Also, create a stylish image for you.
Outdoor LED ball solar-powered
This outdoor LED ball is powered by solar energy. It is a perfect decorative addition to any indoor or outdoor space. Don't worry about running out of batteries. It is great addition for any occasion

Waterproof remote control glow ball light
Colorfuldeco glow ball light completely waterproof and dustproof. Throw them in the bathtub or swimming pool. It can be a floating LED pool light. It is perfect for weddings, swimming pools, gardens, backyards, terraces, coffee table and more. 
Vibrant, colorful LED ball of lights, high quality, environmentally friendly plastic shell, cool ball shape. 16 beautiful RGB colors and 4 lighting modes for perfect indoor and outdoor environments. Multiple lighting effects create different atmospheres.
A great tool for trade shows and marketing campaigns of light balls
New-age advertising also needs new-age technology. Low cost, high yield. Lighting decoration & advertising.
Add your company or brand's custom logo to the light balls. This glow ball lamp does more than grab customers' attention. More customizable products are available in Colorfuldeco glow furniture.
Product size: Dia.20 cm
IP Rating: IP68 (completely sealed against dust ingress and moderate water jets)
Rechargeable: 2000mAH, Li-ion Battery
Output: DC 5V 1A
Working time: 8- 16 hours (depending on brightness and color settings)
Recharging time: 2-4 hours
Material Type: Plastic (can float in the swimming pool)
Light Color: RGB 16 color changing freely
Colors and fades controlled by DMX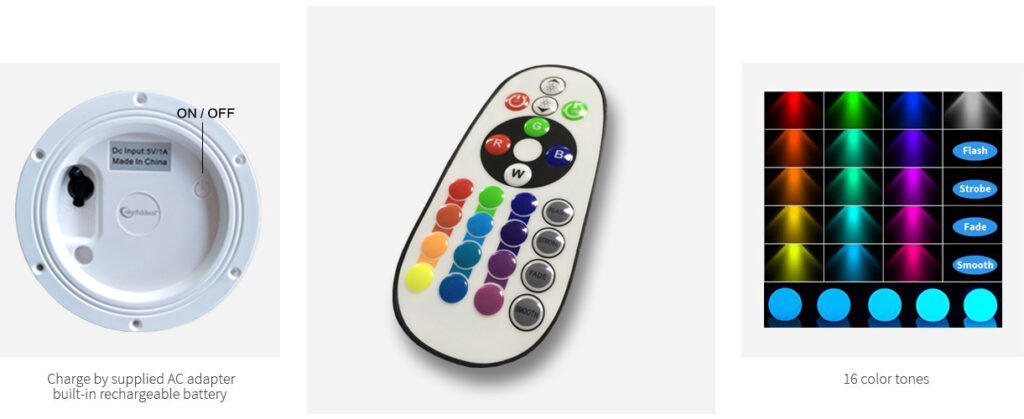 Video of LED lighting balls
The product package includes:
1 x LED shaped light ball
1 x Remote control
1 x USB charging cable
1 x hook
1 x Grounding installation
1 X User manual (with full instructions)
Note:
Because the solar panels are inside the ball lamp. It will need strong sunlight to recharge. This light would be dimmer than light from a non-solar sphere.
If need to use wire charging. Please use the original USB charger to charge the lamp; otherwise,  We could damage the battery.
Q1. Do you accept LOGO printing on the product?
Yes, we accept printing. Please send your LOGO to salespeople.
Q2. How long is the warranty?
The warranty is 1 year.
Q3. What's PE?
Plastic PE is Polyethylene, characterized by corrosion resistance, electrical insulation (especially high, frequency insulation), low-pressure polyethylene suited to make corrosion-resistant parts and insulation parts.
Q4. Is it difficult to clean the products after use?
No, you can use alcohol or detergent to clean them, and it will look new.
Q5. What should we concentrate on when using this type of product?
Do not attempt to dismount any LED section and don't place it too on the brink of the hearth and heat area. Use only the charger provided by our company, and skim the user guide sheet within the package carefully before using it.