Glow In The Dark Flower Pots | Colorfuldeco
Brand: Colorfuldeco
Manufacturer: Colorfuldeco
Decorative glow in the dark flower pots with their simple shape will perfectly blend in with the character of any space. The profile of the pots emphasizes the beauty of the plants placed in and design in the arranged space.
High-Quality PE material and long working time.
Brightness Control and Speed Control
Outdoor and Indoor use. Includes Remote Control
4 main RGB colors (Red, Green, Blue and White)
Flash Modes: Flash/Strobe/Fade/Smooth
Glow in the dark flower pots for sale
Glow in the dark flower pots, we also call that illuminated flower pots, illuminated planters, lighted planter. In conclusion, the glow in the dark flower pots are container in which put in some plants.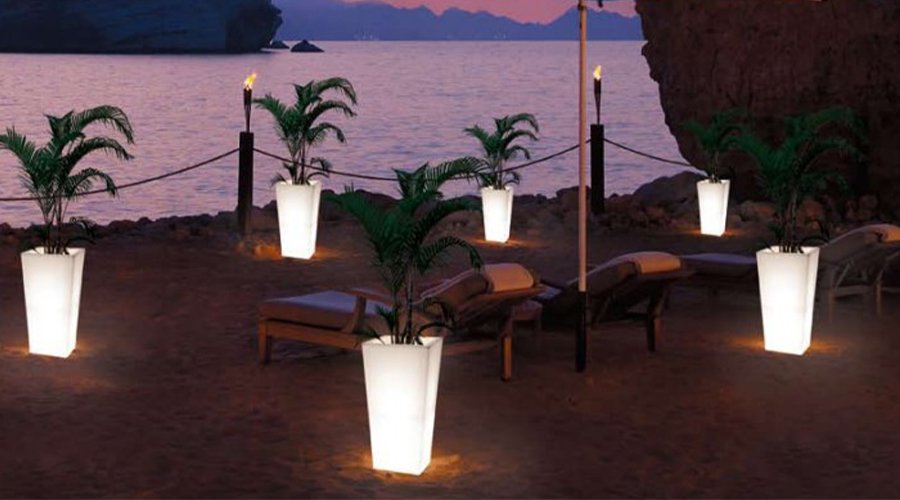 This LED Flower Pot simply commands your attention, with its brilliant glow and height of 31″, it's hard to miss. The tallest of our LED flower pot collection, this light-up planter makes a wonderful addition to your patio, home, or business. Decorate your garden, patio, swimming pool, living room, with our unique and beautiful Portable Rechargeable LED light up flower pot. Also perfect for bar/club restaurant, spa, hotels and more. You can use it to make your event for unforgettable and unique it's great for parties decoration like wedding, birthdays, or any other social events.
Power-efficient LED light
The glow in dark flower pots RGB 5050 LED lights and SMD3014 white led lights. We power it in a long-lasting lithium-ion battery. This RGB+W light saves more power than an ordinary RGB light panel. So our product can last more time.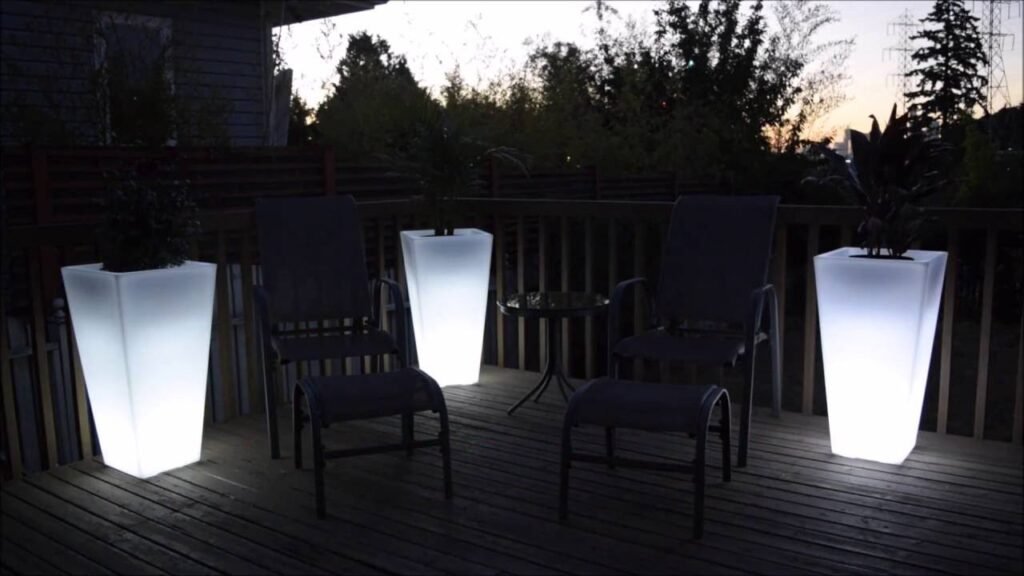 We will offer the remote control to every outdoor flower pots or planter. In this remote with 16 buttons correspond 16 colors you can select. But if you believe that it can't meet your requirement, the multiple is for you. Thank for Wireless Bluetooth and RGB LED light. So you can select any colors you like according your mood. Just download a phone app, you have to carry the remote.
With this LED flower pot you can set the light to your favorite color, or watch glowing color changes. It's a relaxing and beautiful decoration for everyday use, but special enough for weddings and parties, too. Buy one glow in the dark flower pot to create a stunning floral display every time you use them.
They all water proof and can be used indoor or outdoor. So don't worry about the inner led light broken down. At the same time, if you want to put the glow in dark flower pots in outdoor, matching with the solar power function. That makes you don't have to move it someplace with electric power every day. Just lay it on ground, nothing to do.
Other features of solar powered illuminated planters:
Each LED flower pot unit comes with 1 remote control and 1 charger
Made of white strong PE (polyethylene)
Its water proof and beak proof and you can use it indoor or outdoor
LED light inside for power saving and long lasting
Light up for 10 hours straight
The glow in dark flower pots with 3 years warranty on shell, 1-year warranty on the light panel.
Click here to learn more about LED light plant flower pots.