Portable Luminaire Desk Lamp LED Love Heart Shape Light
Brand: Colorfuldeco
Manufacturer: Colorfuldeco
Cordless rechargeable portable luminaire desk lamp on factory wholesale. Remote control waterproof changing color LED love heart shape touch switch desk light. Suitable for indoor and outdoor. Directly from a China manufacturer. Please contact us without hesitation!
Portable luminaire desk lamp LED Love heart shape light factory wholesale price
Our portable luminaire desk lamp with LED Love heart shape light is specially designed for commercial bars, bar resorts, and event planning companies, with high quality guaranteed.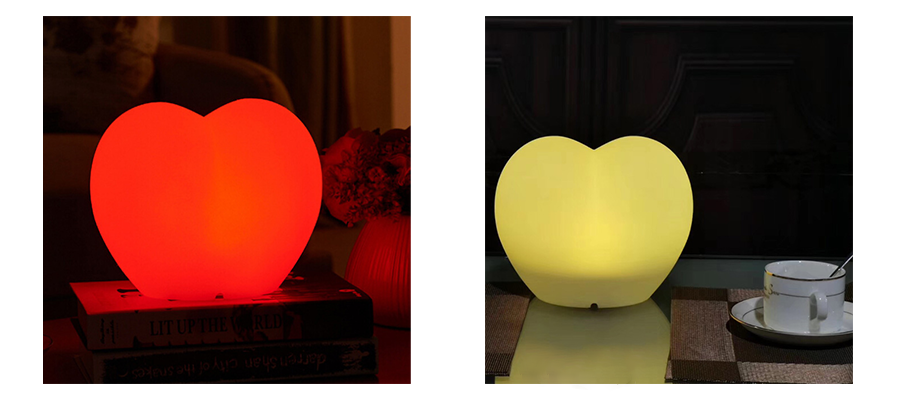 Small rechargeable touch switch portable luminaire desk lamp LED love heart shape lights
The bedroom is not only for relaxation and sleep. It is also a space where couples can spend a good time alone and relive with each other. With decorative elements such as an RGB heart-shaped portable luminaire desk lamp, you can create space. Let your guests can enjoy a soft and sweet time together in the room.
The outlet indoor/outdoor light is an interesting highlight light. It is the perfect modern alternative to candles. Whether it is used as the centerpiece of a dining table, a night light on a bedside table, or a decorative light portable on the mantle. This modern desk lamp is very suitable for indoor and outdoor use. This lamp is made of white polyethylene, durable and waterproof, and can float in the pool. This lighting table lamp uses BulbLite IC battery powered portable lights. This is a low-energy LED. Can project diffuse accent light. It can be set to project a single color and continuously switch between colors. Or project a warm candle-like light.
Product name: Cordless portable luminaire LED love heart shape desk lamp
Product model: A196
Product color: white
Product material: PE
Product size: 20 x 14 x 16.5 cm
Product battery powered: Li-ion rechargeable battery 1000-4000mAh
Adaptor: Input:110V-240V, Output: DC 5V
Charging time: 4-8hours
Working time: 8- 48 hours up to what color you use
Waterproof standard: IP65 
Lighting mode: Intelligent remote control 
1. Parameter of battery powered portable LED love heart shape lights
1) High-quality battery powered portable LED love heart shape lights with low energy wick. The product has RGBW SMD, RGBW is better than RGB on light effect. RGBW light is more pure and bright.
2) Material is LLDPE(Linear Low-density Polyethylene) The performance of anti-extension, penetration resistance, impact resistance, and tear resistance are enhanced. Processing is rotational molding, So the shell is evenly and has a good performance on light guiding.
3) Rechargeable battery and eco-friendly Product as Li-battery. It is widely used in the world.
2. About the safety
1) 100% tested before shipping. All the LED love heart shape desk lamps will pass the burn-in test, waterproof test, function test. Waterproof Standard: IP65.
2) Normal working temperature from-20°to+50 °C.
3) The performance of shell LLDPE is better than LDPE It's safe for children and adults.
4) We have a lot of certificates such as FCC, ROHS, C-tick, CE…..
3. Application
1) Restaurants and nightclubs bar table lighting, Gardens, and other public areas creating a special event.
2) Private villas, Private courtyard, swimming pool used as furniture or light.
3) Casino events, Exhibition, Retail Display. Wedding Ceremony Display Party, christmas or any festival celebration.
4) Even make offer of marriage
5) Use in the hotel or bedroom to increase romantic air.
4. Accessories
Manual *1
IR Remote controller
Power plug*1(EU, AU, UK, US for choice)
Q1. Can cordless lamps be used outdoors?
Yes, our cordless lamps are designed to be used both indoors and outdoors. Please check your chosen lamp specification for IP rating.
Q2. Are LED love heart shape portable luminaire desk lamps waterproof?
Yes, our lamps are IP65 rated, which means they are waterproof to splashes (such as rain) and dust resistant. However, they are not suitable to be submerged in water.
Q3. Do you provide international services?
Yes, we can deliver anywhere in the world using our network of reliable and fast couriers. If you can't see your country during checkout, please contact a member of our team, so we can calculate a rate for you.
Q4. Can I order samples?
Yes, we provide a sampling service to our hospitality and trade professionals. You will need to complete our sample request form. Please note we do charge for our samples however we can provide a full refund (minus delivery costs) if the samples are returned to us. Alternatively, if a subsequent order is placed after seeing the samples, we will deduct the cost from your final invoice.
Q5. Do you offer discounts?
Yes, we can offer discounts for members of the trade such as designers, architects, contractors, and hospitality professionals. In addition, we may be able to offer special discounts for large volume orders. Please contact our customer support team with any questions.