Glow In The Dark Pots For Plants, Colorfuldeco
Brand: Colorfuldeco
Manufacturer: Colorfuldeco
Model: G110
Name:
Glow in the dark pots for plants
Size: 39x39xH40cm
Color: 16 color variations and custom colors
Light source: RGBW LED SMD5050
Material: LLDPE plastic material
Protection: IP44-IP65
Certification: CE RoHS UL
LED life (hours): 50,000-80,000
Power supply: 40 AC110-2 replaceable option
Glow in the dark pots for plants
With elegance as the design concept, these modern glow in the dark pots for plants will enhance the charm of the country garden. Simple straight lines can fully show the beauty of plants.
These lighted flower pots outdoor are made of wear-resistant plastic, which is lightweight, freeze-proof and weather-resistant. The rechargeable LED light is waterproof. Use the included remote control to change the color, mode, and brightness of the light.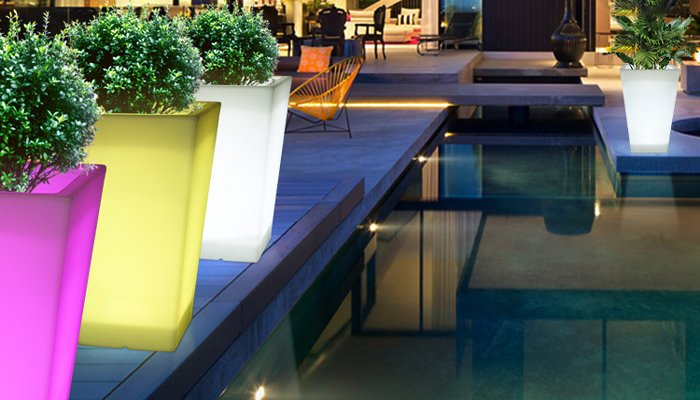 This outdoor glow flower pot only needs to be 40 inches high, so it can attract your attention and should not be missed. As the highest one in our LED flowerpot series, this luminous flowerpot adds wonderful color to your garden, home or business. Decorate your garden, terrace, swimming pool, and living room with our unique and beautiful portable rechargeable LED illuminated flower pots. It is also very suitable for bars/club restaurants, spas, hotels, etc. You can use it to host unforgettable and unique events, perfect for party decorations such as weddings, birthdays or any other social events.
Features of glow in the dark outdoor planters
They are all waterproof. Can be used indoors or outdoors. So don't worry about the internal led light is broken. At the same time, if you want to shine glow in the dark outdoor planters, use the solar power function. This saves you from having to move it to a place with electricity every day. Put it on the ground and do nothing.
Illuminate RGB 5050 LED lights and SMD3014 white LED glow in the dark pots for plants. We use long-lasting lithium-ion batteries to power it. This RGB+W lamp is more power-efficient than ordinary RGB lamp panels. So our products can last longer.
We will provide a remote control for each outdoor glow pot plant or flower pot. In this remote control with 16 buttons, you can choose 16 colors. With this LED flower pots, you can set the light to your favorite color or watch the color change of the light. This is a relaxing and beautiful decoration suitable for daily use, but it is also good enough for weddings and parties. Buy a lamp in a dark flower pot and create a stunning floral display every time you use it.
Our Colorfuldeco factory video
Q1. Do you accept LOGO printing on the product?
Yes, we accept printing. Please send your LOGO to salespeople.
Q2. how can we guarantee the quality?
Always a pre-production sample before mass production;
Always final Inspection before shipment;
Q3. How long is the warranty?
The warranty is 1 year.
Q4. What's PE?
Plastic PE is Polyethylene, characterized by corrosion resistance, electrical insulation (especially high, frequency insulation), low-pressure polyethylene suited to make corrosion-resistant parts and insulation parts.
Q5. Is it difficult to clean the products after use?
No, you can use alcohol or detergent to clean them, and it will look new.