For owners of hookah lounges, crafting a captivating ambiance is essential to creating a memorable experience for patrons. Enter the world of LED hookah furniture – a trend that has transformed the landscape of hookah lounges. In this article, we will explore how LED hookah furniture brings an illuminating atmosphere to these lounges, turning ordinary spaces into captivating havens.
Unveiling the Radiance: The Magic of LED Hookah Furniture
In the realm of hookah lounges, the atmosphere plays a pivotal role in setting the mood. LED hookah furniture takes this concept to a whole new level with its enchanting glow and innovative designs. Let's delve into the key facets of LED hookah furniture that enhance the allure of your hookah lounge.
Imagine patrons gathering around a bar counter that emanates a captivating glow. LED bar counters offer not just a space to enjoy hookah but a visual spectacle. The soft, vibrant illumination sets the stage for a relaxed and immersive experience. Your lounge transforms into a haven of elegance where patrons unwind and indulge.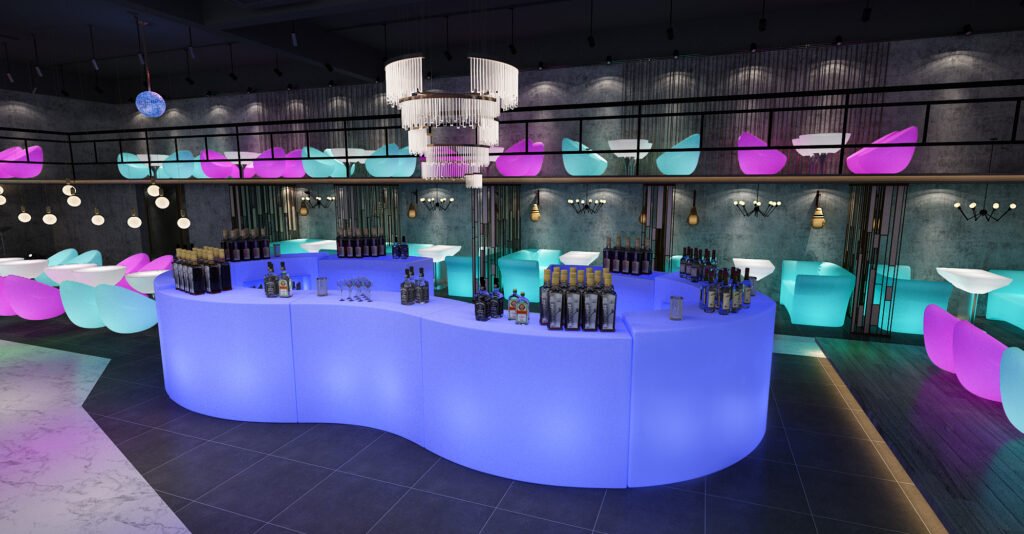 Glowing Conversations: The Allure of Glow Tables
With glow tables, you can infuse an enchanting touch into your hookah lounge. These tables radiate a captivating glow, creating an ambient setting for patrons to engage in conversations and enjoy their hookah sessions. The mesmerizing illumination adds an extra layer of allure to your lounge's atmosphere.
Quirky Seating: Pineapple Bar Stools
Elevate your lounge's charm with LED pineapple bar stools. These quirky yet stylish stools enhance the uniqueness of your space. Patrons will be drawn to their whimsical design and vibrant glow, making their hookah experience all the more memorable.
Luminous Comfort: LED Sofas
Comfort meets radiance with LED sofas. These plush seating options not only provide a cozy spot for patrons to relax but also emit a soft, inviting glow. Your lounge takes on a whole new dimension as patrons sink into the comfort of the sofas while being enveloped in the captivating ambiance.
Enchanting Elements: LED Balls Lights and Cube Chairs
Imagine patrons interacting with LED balls lights and cube chairs, adding an interactive dimension to your lounge. These luminous objects can be moved around, allowing for creative seating arrangements. The playful element of these pieces invites patrons to explore and engage in a unique way.
Natural Radiance: Lighted Planters
Infuse a touch of nature into your hookah lounge with lighted planters. These illuminated planters create a serene corner within the bustling space. The soft glow complements the plants, offering a calming oasis where patrons can escape the ordinary.
Case Study: The Transformed Oasis of OasisHookah Lounge
A shining example of LED hookah furniture's impact is "OasisHookah Lounge." By incorporating Colorfuldeco LED furniture, the lounge underwent a stunning transformation. Patrons were captivated by the LED bar counter and the enchanting glow of the LED sofas. The lounge's social media presence soared as patrons shared captivating photos, attracting a new wave of hookah enthusiasts.
To stand out in the world of hookah lounges, Colorfuldeco LED hookah furniture is your secret to success. With an array of options, including LED bar counters, glow tables, pineapple bar stools, and more, you can create an ambiance that patrons will remember. Elevate your lounge's atmosphere, create unforgettable moments, and watch as your hookah lounge becomes the talk of the town.