Podium with RGB LED Lighting
Brand: Colorfuldeco
Manufacturer: Colorfuldeco
Introducing our stunning RGB LED Podium – the perfect centerpiece for your stage. Designed for the hospitality, entertainment, and event planning industries, this podium steals the show with its vibrant lighting effects and sleek design. Elevate your presentations, conferences, and ceremonies with an immersive visual experience that leaves a lasting impression. Stand out from the crowd and create a captivating ambiance with our customizable lighting options. Durable, practical, and portable, our RGB LED Podium is ready to make your events shine.
Illuminate Your Stage with the Vibrant Podium With RGB LED Lighting
Elevate your presentations and events with our Podium With RGB LED Lighting. Designed specifically for the hospitality, entertainment, and event planning industries, this eye-catching podium adds a touch of brilliance to any stage or speaking engagement.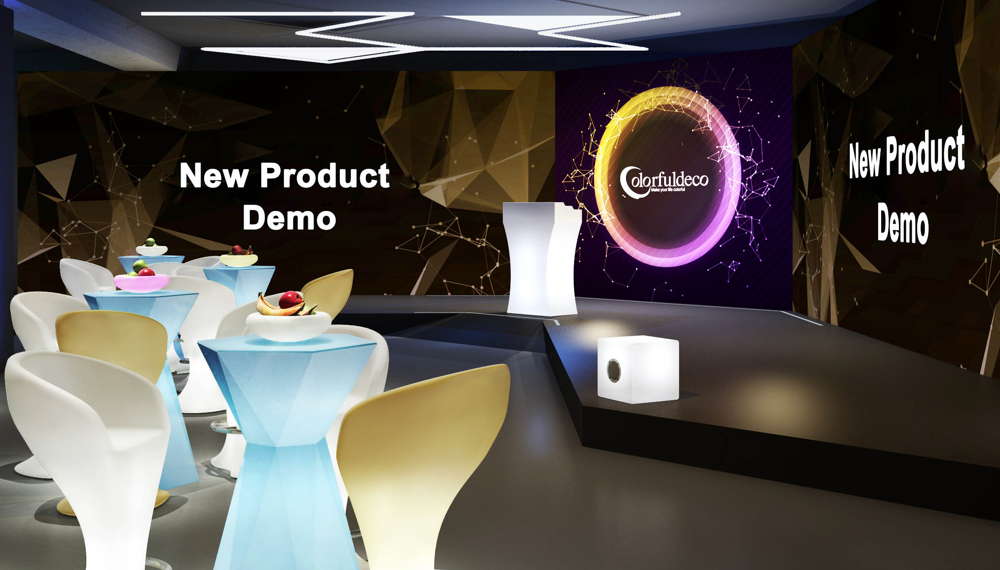 1. Capture Attention:
The mesmerizing RGB LED lighting allows you to create captivating visual displays, instantly drawing the audience's attention. Choose from a spectrum of vibrant colors or dynamic lighting effects to enhance your brand presence and make a lasting impression.
2. Versatile Design:
Our podium features a sleek and modern design, seamlessly blending into any event theme or venue decor. The lightweight yet sturdy construction ensures easy transport and setup, making it an ideal choice for conferences, seminars, awards ceremonies, and more.
3. Customizable Lighting:
Take full control of the ambiance with the built-in RGB LED lighting system. Adjust the color, brightness, and lighting patterns to match your branding, create a specific mood, or highlight key moments during speeches and presentations.
4. Durable and Practical:
Crafted from high-quality materials, this podium is built to withstand the demands of professional use. The smooth surface allows for easy cleaning and maintenance, ensuring a polished and professional appearance at all times.
5. Impress Your Audience:
Whether it's a corporate event, wedding, trade show, or public speaking engagement, our Podium With RGB LED Lighting adds an element of sophistication and excitement to the stage. Stand out from the crowd and leave a lasting impression on your audience.
6. Boost Engagement:
The combination of sleek design and dynamic lighting creates a visually captivating experience that enhances audience engagement. Your speakers and presenters will feel empowered, and attendees will be inspired and enthralled by the vibrant stage presence.
Conference and Seminar Events: The RGB LED Podium adds a touch of elegance and sophistication to conferences and seminars. It serves as a stylish platform for speakers and presenters, creating a visually engaging focal point.

Award Ceremonies: Make your award ceremonies truly memorable with the RGB LED Podium. Its dynamic lighting effects and sleek design enhance the prestige of the event, drawing attention to the stage and creating a sense of excitement.

Trade Shows and Exhibitions: Attract attention to your booth or exhibit with the eye-catching RGB LED Podium. Its vibrant lighting effects and customizable colors help you stand out from the competition, enticing visitors to explore your offerings.

Weddings and Receptions: Create a magical atmosphere at weddings and receptions with the RGB LED Podium. Use it as a stylish platform for speeches, announcements, or as a centerpiece for the newlyweds' table, adding an enchanting touch to the celebration.

Nightclubs and Bars: Enhance the ambiance of your nightclub or bar with the RGB LED Podium. Its pulsating lights and customizable color options create a vibrant and energetic atmosphere, elevating the overall experience for patrons.

Corporate Events and Galas: Impress guests at corporate events and galas with the sleek and sophisticated RGB LED Podium. It serves as a professional platform for speakers, adding a touch of glamour and professionalism to the occasion.

Product Launches and Brand Activations: Make a bold statement with the RGB LED Podium during product launches and brand activations. Its attention-grabbing lighting effects and customizable colors help you create a captivating brand experience, leaving a lasting impression on attendees.

VIP Lounges and Exclusive Events: Create an exclusive and luxurious ambiance in VIP lounges and exclusive events with the RGB LED Podium. Its elegant design and captivating lighting effects set the mood for an unforgettable experience.
Model: C153
Size: 70 x 40 x H110 cm
Weight: 16 kg
Material: LLDPE plastic material
Protection: IP65
Color: 16 colors change and customize the color
Rechargeable lithium battery, or solar powered
Charging time: 4-5 hours, working time: 10-12 hours
Accessories:
1* Adaptor (Plugs are different in different countries: AU, EU, UK, US)
1* Remote Controller
1* English Operating Manual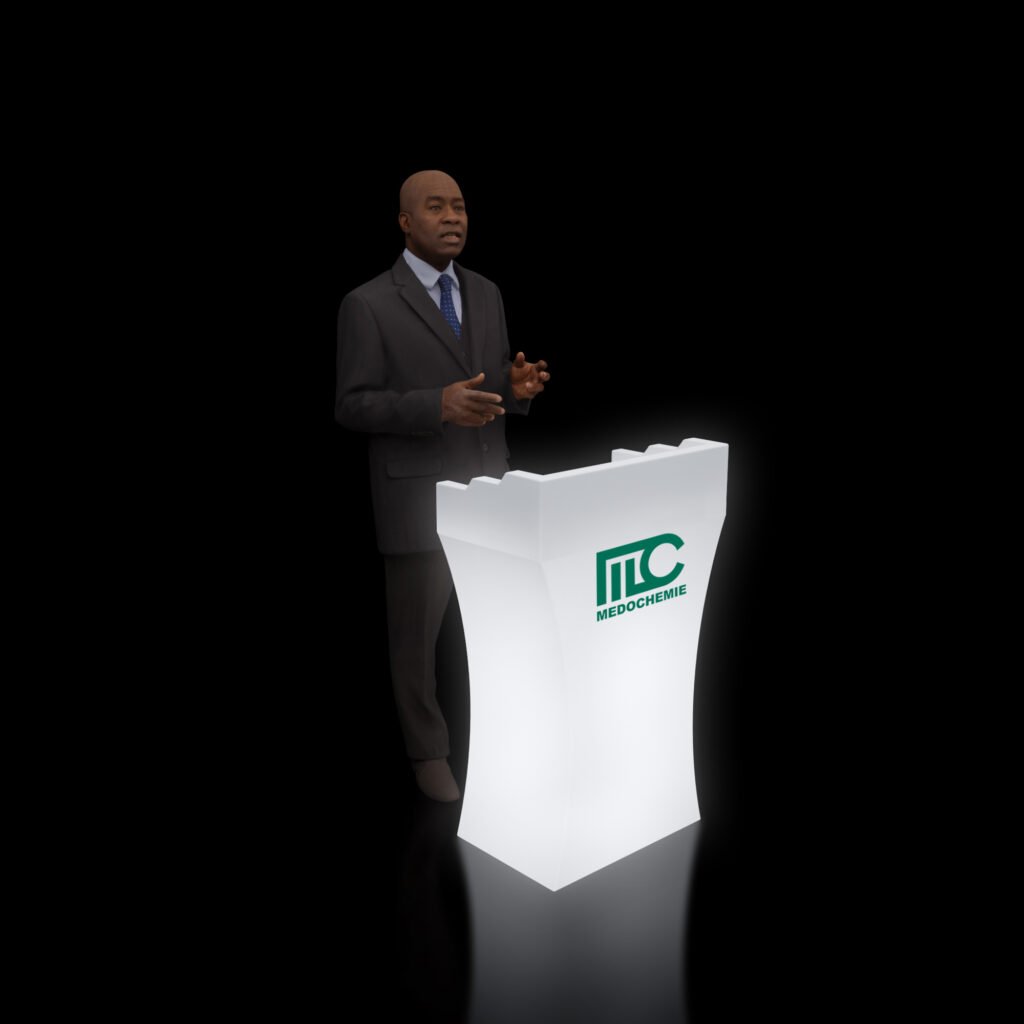 Color changing video C153 product:
Experience the Difference: Elevate your events to new heights with our Podium With RGB LED Lighting. As a leading manufacturer, wholesaler, and supplier of LED furniture, we guarantee top-notch quality and exceptional customer service.
Please contact us! You can send an inquiry at the bottom of the page. Due to the time difference, we may get back to you later, but generally within 6 hours.
Q1. How long is the warranty?
The warranty is 1 year.
Q2. What's PE?
Plastic PE is Polyethylene, characterized by corrosion resistance, electrical insulation (especially high, frequency insulation), low-pressure polyethylene suited to make corrosion-resistant parts and insulation parts.
Q3 Is it difficult to clean the products after use?
No, you can use alcohol or detergent to clean them, and it will look new.
Q4. What should we concentrate on when using this type of product?
Do not attempt to dismount any LED section. And don't place it too on the brink of the hearth and heat area. Use only the charger provided by our company. Skim the user guide sheet within the package carefully before using it.