Personalized LED Ball Lamp 35 cm 13.8 Inches, Colorfuldeco
Brand: Colorfuldeco
Manufacturer: Colorfuldeco
Colorfuldeco personalized LED ball lamp 35 cm, Custom logo LED lights, home decor, personalized presents, the simplest wedding present. This cute and artistic starter lamp will carve your name into a ball. It also floats in the water to light up the pool. It can also be hung from any fixture. The flat bottom provides stability and stops the ball/ball from rolling.
Personalized LED ball lamp 35 cm
Personalized LED ball lamp 35 cm, it brings mystery and romance, as well as an amazing experience, and it comes with stunning features! This is a unique and romantic gift for anniversaries, birthdays and Christmas!
LED ball lamp is a favorite gift for children at Christmas and Halloween. It is both lighting and decoration with interesting patterns.
Custom LOGO 35 cm LED ball light
35 cm LED ball light waterproof also float in the water to light up the pool.
Add your company or brand's custom logo to the LED ball light. It gets the customer's attention. More customizable products are available in Colorfuldeco decorative lighting.
Night lighting LED ball lamp
Soft lighting LED ball lamp, hypnotic night light for your newborn/child/baby. The brightness of this full LED ball lamp is suitable for protecting the eyes and will not harm the eyes of the baby. It is very suitable for the baby's night light to enhance the sense of security.
Product size: Dia.35 cm
IP Rating: IP68 (completely sealed against dust ingress and moderate water jets)
Rechargeable: 2000mAH, Li-ion Battery
Output: DC 5V 1A
Working time: 8- 16 hours (depending on brightness and color settings)
Recharging time: 2-4 hours
Material Type: Plastic (can float in the swimming pool)
Light Color: RGB 16 color changing freely
Colors and fades controlled by DMX12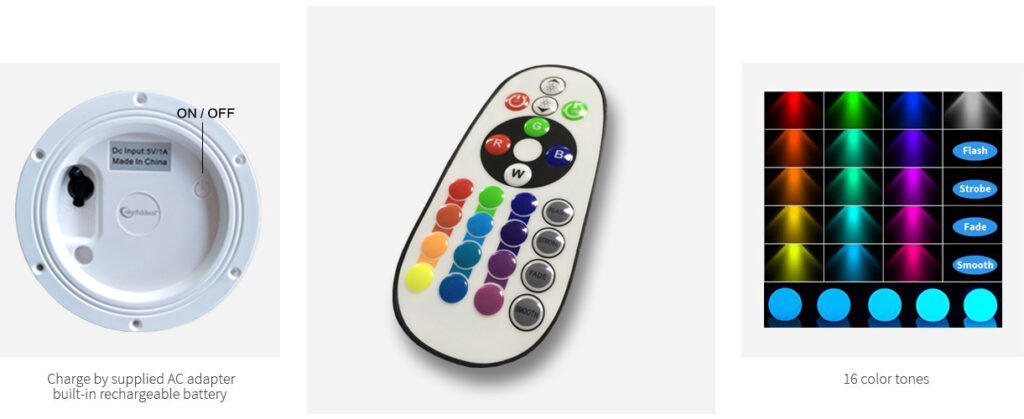 Video of LED furniture factory Colorfuldeco
The product package includes:
1 x LED shaped light ball
1 x Remote control
1 x USB charging cable
1 x hook
1 x Grounding installation
1 X User manual (with full instructions)
Note:
Because the solar panels are inside the ball lamp. It will need strong sunlight to recharge. This light would be dimmer than light from a non-solar sphere.
If need to use wire charging. Please use the original USB charger to charge the lamp; otherwise,  We could damage the battery.
Q1. Do you accept LOGO printing on the product?
Yes, we accept printing. Please send your LOGO to salespeople.
Q2. How long is the warranty?
The warranty is 1 year.
Q3. What's PE?
Plastic PE is Polyethylene, characterized by corrosion resistance, electrical insulation (especially high, frequency insulation), low-pressure polyethylene suited to make corrosion-resistant parts and insulation parts.
Q4. Is it difficult to clean the products after use?
No, you can use alcohol or detergent to clean them, and it will look new.
Q5. What should we concentrate on when using this type of product?
Do not attempt to dismount any LED section and don't place it too on the brink of the hearth and heat area. Use only the charger provided by our company, and skim the user guide sheet within the package carefully before using it.