Bluetooth LED Cube Speaker
Brand: Colorfuldeco
Manufacturer: Colorfuldeco
Remote control waterproof rechargeable cordless Bluetooth LED speaker cube 20 cm. Factory direct sales in China.
Bluetooth LED cube speaker factory for sale to Wholesalers, online sellers, hotels, bars, etc.
We are a professional Bluetooth LED cube speaker factory in China. Providing customized various models of glow cube, ball, decorative light furniture. You can always find a product you like.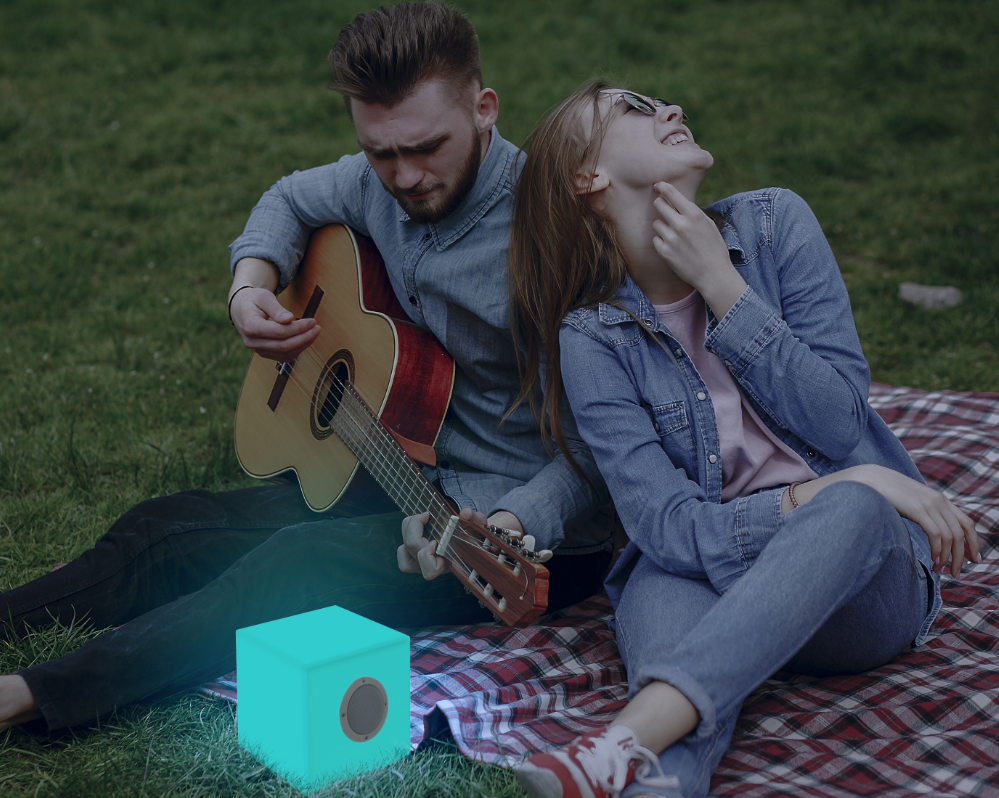 Control way of LED Bluetooth speaker cube
We provide 4 central ways to you. At first, the touch switch is at the bottom of the LED Bluetooth speaker cube . You just press it, it will be on and off. Second, the RF control, also known as "radio frequency," RF, can work over much longer distances. Third, IR control, it is quick, efficient, and offers an ability to communicate a wide variety of commands. Its downside is that you always need line-of-sight for it to work properly. If something is in the way, you're sunk. It also works over relatively short distances. Across a room is about as much as you can expect. At last, DMX control way, if you need to control a lot of the Bluetooth speaker led lights cube, we also can provide the technology to meet you.
Colors and 4 lighting way of Bluetooth led speaker cube
Our Bluetooth LED speaker cube supports 16 color options on the remote control by the free remote control. But if you choose to control the color with your phone, you can choose any color from thousands of RGB colors. Second, there are 4 modes to choose from, such as fade, smooth, strobe, and flash.
The material is the best LLDPE from Thailand
Our all glow LED cube speaker is consists of a plastic shell and inner light LED panels. In this plastic shell, all the shells are original the glow Linear low-density polyethylene (LLDPE). We import the best LLDPE from Thailand then create the glow illuminated Bluetooth LED cube speaker with our equipment. The LLDPE is a substantially linear polymer (polyethylene), with significant numbers of short branches, commonly made by copolymerization of ethylene with longer-chain. LLDPE has higher tensile strength and higher impact and puncture resistance than does LDPE. The LLDPE known as third-generation polyethylene has the properties of polyolefin resin, tensile strength, tear strength, environmental stress cracking resistance, low-temperature resistance, heat resistance, and puncture resistance are particularly superior and has gained remarkable development – Wikipedia.
In addition, compared with ordinary LDPE and PE, their basic physical properties and forming characteristics are different due to their different molecular structures and melting rheological behaviours. So, our third generation polyethylene shell has three distinct advantages. First, our shells are more resistant to environmental stress cracking than other ordinary plastic shells. This also means that our LED cube blue tooth speaker is break-proof and anti-cold. You can work normally even if you're at minus 40 degrees. Second, our LLDPE shell has good heat resistance. This means that our LED cube speaker is less likely to break down in the summer heat. Third, our LLDPE plastic shell has good oil resistance. It means that our LED cube speaker is easier to clean.
RGBW LED SMD 5050
Due to the uneven quality of LED cube lamp beads, the quality of all light-emitting LED cube speaker Bluetooth varies greatly. There are many LEDs for us to choose from. For example, DIP technology, SMD RGB technology, SMD RGB + W technology and our SMD RGBW technology. First, about the DIP technology light panel. Because there are no white beads directly in the DIP lamp panel, the lamp panel will consume much more energy. Secondly, the RGB SMD technology panel is the same as the previous DIP panel, which consumes a lot of energy. Third, the SMD RGB + W technology has a lamp bead that directly generates white light. However, there are too many welding points on this lamp panel, which wastes too much useful space on the lamp panel, resulting in too dark overall light.
Finally, our RGBW LED SMD 5050 perfectly solves the above problems. The RGBW LED SMD 5050 is actually a 'quad' chip, meaning it has smaller chips in every SMD. So each white LED actually has four chips inside.5050s can also be used for color-changing LED tape, with red, green, blue, and white chips inside each LED. By linking this type of RGB LED strip light to a controller, you can mix any shade of any color you choose. Therefore, our LED panel can save more electric energy to work a long time, reach 8~10 hours. At the same time, because of the 4 in 1 RGBE LED, our light panel can accommodate more LEDs. So our bluetooth speaker with led lights panel is lighter than the ordinary light panel.
Product name: Cordless LED cube speaker Bluetooth 
Product model: A257A
Product color: white
Product material: PE
Product size: 20 x 20 x 20 cm
Product weight: 1 kg
Product battery powered: Li-ion Rechargeable Battery(4000mAH)
Adaptor: Input:110V-240V, Output: DC 5V
Charging time: 4-8hours
Working time: 8- 48 hours up to what color you use
Waterproof standard: IP65 
Lighting mode: Intelligent remote control
Application of LED cube Bluetooth speaker
Make your place gorgeous, sparkling:
1. Bar, KTV, Nightclub. This place needs colorful light, and it happens that we provide a cube wireless Bluetooth speaker.
2. Wine Party, Birthday Party. Anyway, lighting furniture is indispensable.
3. The exhibition, show.
4. Hotel, Coffee Houses and so on. Using the other different LED cube Bluetooth speakers to attract more guests.
We are a professional LED cube speaker factory. The factory is in Guangdong, China. So our LED cube speaker is a much lower price than the peer in different countries. As long as you place an order, we can deliver the goods to you directly from the factory. At the same time, we have a variety of styles to choose from. You can order small quantities and multiple styles together and ship them together to save shipping costs.
If you need an LED cube speaker, please contact us. We can offer various LED speakers, you can send an inquiry at the bottom of the page. Due to the time difference, we may reply to you later, but generally not more than 6 hours.
Q1. Can cordless LED cube speakers be used outdoors?
Yes, our cordless LED cube speakers are designed to be used both indoors and outdoors. Please check your chosen lamp specification for IP rating.
Q2. Are glowing cube Bluetooth speaker lamps waterproof?
Yes, our glowing cube Bluetooth speaker lamps are IP65 rated, which means they are waterproof to splashes (such as rain) and dust resistant. However, they are not suitable to be submerged in water.
Q3. Is it safe for children?
Yes, the lights we use are low-voltage and low-current. The product has a built-in lithium battery. When it is out of power, it can be charged with a USB cable.
Q4. Do you provide international services?
Yes, we can deliver anywhere in the world using our network of reliable and fast couriers. If you can't see your country during checkout, please contact a member of our team, so we can calculate a rate for you.
Q5. Can I order samples?
Yes, we provide a sampling service to our hospitality and trade professionals. You will need to complete our sample request form. Please note we do charge for our samples however we can provide a full refund (minus delivery costs) if the samples are returned to us. Alternatively, if a subsequent order is placed after seeing the samples, we will deduct the cost from your final invoice.
Q6. Do you offer discounts?
Yes, we can offer discounts for members of the trade such as designers, architects, contractors, and hospitality professionals. In addition, we may be able to offer special discounts for large volume orders. Please contact our customer support team with any questions.