Wine tasting events are a great way to learn about different types of wines, explore new varieties, and have a good time with friends or guests. But to truly experience and appreciate a great bottle of wine, you need to create the perfect atmosphere. That's why more and more wine enthusiasts are turning to LED furniture to add a unique and unforgettable ambiance to their events.
What Is LED Furniture?
LED furniture is a type of furniture that is illuminated by LED lights. This furniture is designed to be eye-catching, stylish, and energy-efficient. In addition to being visually appealing, these pieces are also highly functional, offering a practical and comfortable seating option for any occasion.
Benefits of Using LED Furniture for Wine Tasting Events
When it comes to wine tasting, creating the right atmosphere is essential. With LED furniture, you can do just that. Here are some of the key benefits of using LED furniture for wine-tasting events:
Creates a Unique Ambiance: LED furniture offers a unique and visually stunning atmosphere that will be sure to impress your guests. The bright and colorful lights will transform your space and make it stand out.
Enhances the Experience: LED furniture sets the perfect mood for a wine tasting event. The lights create a cozy and intimate atmosphere that encourages conversation and encourages guests to take their time to appreciate the wines they are tasting.
Energy-Efficient: LED furniture is highly energy-efficient, which means that you won't have to worry about running up your electricity bill. Additionally, LED furniture is low-maintenance and can last for years with minimal upkeep.
Affordable: LED furniture is surprisingly affordable, especially when compared to traditional furniture. This makes it a great option for wine enthusiasts who want to add a unique and stylish touch to their events without breaking the bank.
How to Incorporate LED Furniture into Your Wine Tasting Event
When it comes to incorporating LED furniture into your wine tasting event, the possibilities are endless! Here are some ideas for how you can use LED furniture to enhance your event:
Set Up a Relaxed Lounge Area: Create an inviting and comfortable lounge area for your guests to relax and enjoy their tasting. Choose LED furniture with soft and inviting colors to add a cozy and inviting feel to your space.
Add a Pop of Color: Make your event stand out with brightly-colored LED furniture. Choose pieces that match the colors of your event decor and use them to create a dramatic and eye-catching display.
Create an Interactive Display: Use LED furniture to create an interactive display that encourages guests to explore and experiment with the different wines. For example, you could set up a tasting table with LED chairs, or create a unique and engaging centerpiece with LED furniture.
Create a Fun Photo Booth: Set up a fun photo booth with LED cube furniture to create lasting memories of your event. This is a great way to encourage your guests to interact with each other and capture special moments.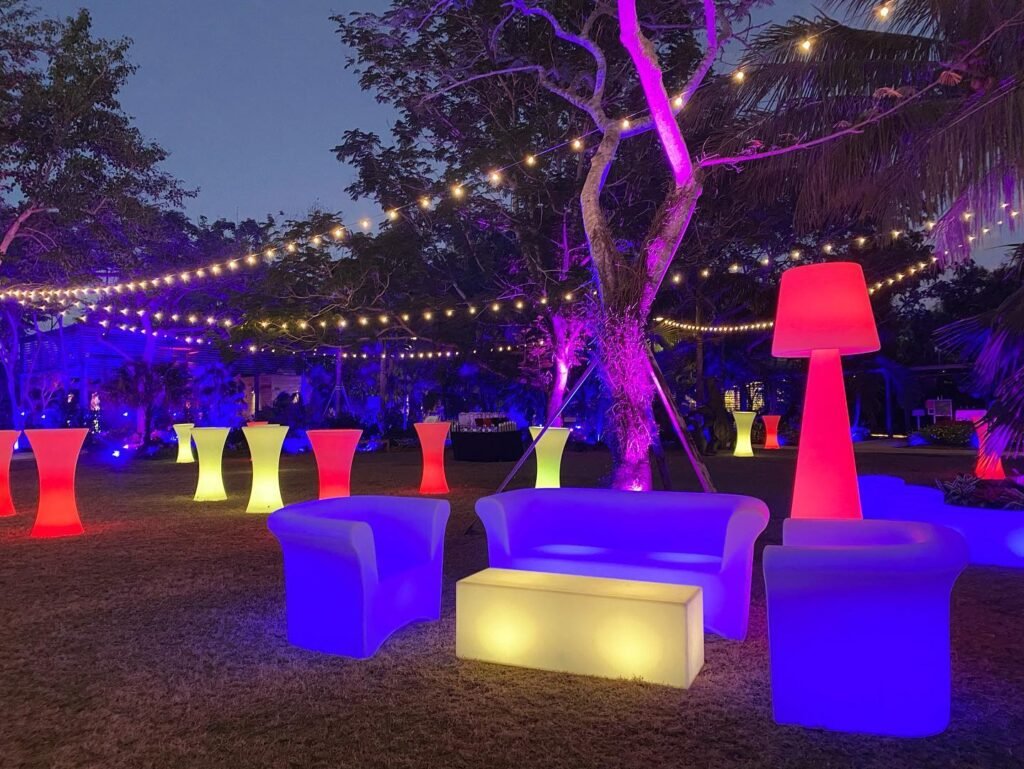 At Colorfuldeco LED furniture wholesale company, we have the perfect pieces to make your wine-tasting event a truly unforgettable experience. From comfortable lounge chairs to eye-catching centerpieces, we have a wide selection of LED furniture to choose from. Contact us today to find out more about how our LED furniture can enhance your next event!